As an opportunity for passive income, YieldNodes is one of my top 3 opportunities and has been the overall #1 performer since 2020. As far as 'passive' goes, it's about as close to 100% as you can get and the overall experience has always been amazing….until;
⚠️ 11th October 2022 ⚠️
Please see updates section for important information. I am currently unsure of Yieldnodes status and as of today, most of the information in this article is likely now inaccurate.
⚠️ 12th October 2022 ⚠️
Video interview with Yieldnodes CEO regarding current situation & Yieldnodes Pro plans:
https://www.youtube.com/watch?v=ysEBK8ZpsGY
⚠️ October 2022 & beyond ⚠️
 The team have setup a Discord and are being pro-active in responding to questions. They are releasing information on their plans for recovery and for the future of Yieldnodes. There is currently too much information, noise and frequent updates to keep this post up-to-date; best to join Discord.
Yieldnodes Discord: https://discord.gg/uNc2VpCwA9
NOTE that only Yieldnodes investors can write in the channel (verify your username within the 'My Account' section of your Yieldnodes account) however, anyone can join and read.
⚠️ 2nd November 2022 ⚠️
 New video interview with CEO
https://www.youtube.com/watch?v=Xb4xhBwFYic 
⚠️ January 2023 ⚠️
 Please join the official Discord for updates (also check your emails if you are a member/signed up & news here: https://yieldnodes.com) &/or Facebook Community Group as there are too many happenings for me to share here. Yieldnodes hope to have recovered by the end of 2023 and in the meantime are "paying" 5% per month. There have been no updates re the October 2022 withdrawals (some users received them, some did not — the reason is apparently due to Binance freezing funds)
⚠️ June 2023 ⚠️
 They say their roadmap is on target, however it's been 8 months now and nothing tangible to share. No further updates on the frozen funds in Binance. Beyond their history and the fact that Steve keeps communicating, even if it is vague, there's not much to go on in terms of progress. With that and current market conditions, I can't see a recovery by end 2023 / Q1 2024.
July 2023
We had two accounts (one each) with similar balances. Decided to split the risk. Claimed one NFT and sold for 13% of its value 🙁 Currently holding the other in YN balance (not claiming NFT until things are clarified).
I have placed some personal comments/thoughts in the updates section.
*
**
*******
The original article continues below…NOTE that most of this is now out of date as of 11th October 2022. See video above & updates section.
*******
**
*
As an opportunity for passive income, YieldNodes is one of my top 3 opportunities and has been the overall #1 performer since 2020. As far as 'passive' goes, it's about as close to 100% as you can get and the overall experience has always been amazing
I've been invested in Yieldnode's masternode-based, profit-share platform since 2020 and I'm extremely happy with the results AND with the communication / transparency from the team.
Also, if you register for an account, on the left menu, you will see their "Audits" and receive their monthly newsletter, inc performance reports — very concise and I look forward to reading them every month.
What is YieldNodes?
Yieldnodes generates passive income via its fully managed server rental program for masternodes on which it shares profit at 85% 87.5% – rate updated September 2022.👍😀
The model is 'revenue', however for ease of comparison,  the average monthly return is around 9% (was 11% prior to 2022). Yield nodes generates income and primarily by 'masternoding' – blockchain validation and crypto computations and storage. You do not need to know anything about masternodes to participate and earn passive income. 
Very briefly, nodes and masternodes are part of the specific cryptocurrency (coin or token) network. They are computers/programs that perform various functions and some hold complete copies of the ledger. If you operate a node or masternode you generally are paid rewards in the form of the coin/token of the masternode. This can be very profitable.

However, setting up a node or masternode and maintaining it is usually very technical and requires dedicated hardware and stable power source (or a VPS). Basically, YieldNodes do all this technical stuff and shares profits with you, taking a 15% cut 🙂
Note that any figures shared by Yieldnodes already takes into account their 15% profit split!
The team has been very transparent since they commenced operation in September 2019 and they share results publicly, every month. See my monthly updates 2020-2022 here (inc profit).
YieldNodes future and progress
Quick update: things have changed a lot since I joined back in 2020!
As things have evolved, Yieldnodes progressed from not only masternoding and staking but to purchasing stagnant and struggling projects and masternode coins with potential to rebuild and repurpose. They now call this group of coins and ethos 'DECENOMY'. I won't get into it much now but the word comes from "DECEntralized ecoNOMY ecosystem"; yes, Yieldnodes' bigger vision is to create a DeFi Economy…
And they are making great progress — check out my quick monthly updates at the bottom of this article and you'll find snippets of information; from adding new coins to the network, to taking over Flits app to real-world 'DECENOMY hubs', charitable support, and electric car charging stations (physical assets) in Germany to partnering with a small government (yes, you read that right!)….
Yieldnodes started as a small and simple venture pooling masternode rewards and sharing profits. In three short years it has grown and is evolving into something much bigger and much more world-impacting; projects with the potential to last decades. If nothing else, register so you can get their monthly newsletter & keep up with the progress.
Yieldnodes my first results: $5,000 over 5 months
Why have I chosen $5,000 and Jan-May 2021 timeframe? Because this $5,000 is 50% of what I saved converting the van, and at the time of writing, Jan-May 2021 are the first full months I've been a part of Yield Nodes and earning a share in their profits. Read more on the van conversion and savings here.
Based on their 18-month average return of 11% per month, over 4 months a $5,000 'node rental' should have grown to be worth $8,425 in  months and in month 5 you would be earning around $835 per month, assuming the 11% average continued.
During my 5 full months (I also had a partial month in December 2020), Yieldnodes average return has been pretty close to 11% per month…just slightly higher, giving a balance of $8,976.
Below are the actual figures based on $5,000 being masternoded and profits compounded from 1st January until 30th May 2021. 
YieldNodes monthly return
| | | | | |
| --- | --- | --- | --- | --- |
| Month (2021) | Starting Balance | % Return | $ Return | Closing Balance |
| January | $5,000 | 12.0% | $600 | $5,600 |
| February | $5,600 | 19.2% | $1,075 | $6,675 |
| March | $6,675 | 11.2% | $708 | $7,382 |
| April | $7,382 | 12.7% | $937 | $8,319 |
| May | $8,319 | 7.9% | $657 | $8,976 |
As you can see, there was a massive return in February of 19.2% which had a significant impact on the average return but was an anomaly due to a massive 'bull run' in which crypto experienced hyper growth, you'll then see a return of 7.9% in May, during which crypto then crashed, with Bitcoin loosing around 40% of its all time high (ATH) value…yes; we still received a return of 7.9% during May!
UPDATE/NOTE: as of mid-2022 the monthly profit average is more like 9%.
Yieldnodes personal results since December 2020
I have been with Yieldnodes since December 2020 and can personally testify that in all the time I have been with them, the rewards % has been as reported.
Scroll down or click here for monthly updates 2021-2022, inc % profit I have received each month. (it was getting too long a list posting every month here!). In brief; as of Aug-2022, the return is more like 9% per month on average past 6-12mths.
This is 100% passive income – as passive as you can get. All I do each month is login to request a withdrawal. I can set my compounding to 'auto compound' at any percentage. eg if I set to 50% then 50% of my masternode profits are automatically compounded (re-invested), leaving the other 50% for me to withdraw.

Yieldnodes performance compared (24mths)
You can view this chart on the Yieldnodes homepage, updated every month. It compares how 5,000 EURO would have performed over past 24 months compared to BTC, the Dow Jones and Gold (image updated: since September 2019).
Are Yieldnodes rewards in USD, BTC or something else?
Everything in Yieldnodes is pegged to the EURO (EUR). When you deposit, your masternoded balance, rewards and reports will be quoted in EUR.
You can deposit using Bitcoin (BTC) or Tether (USDT on TRC-20).
You can withdraw in Bitcoin (BTC) or Sapphire (SAPP). Tether will be an option in the future, however there may be a fee due to all the conversions involved — there are no withdrawal fees for BTC / SAPP.
So, for example, you might have a masternoded balance of 10,000 EUR which produces 1,000 EUR rewards that month…when you withdraw, you choose the withdrawal crypto (eg BTC) and that 1,000 EUR is converted to BTC at time funds are sent to you.
What can you do with YieldNodes returns?
Yield Nodes allow you to withdraw or automatically compound (all or part of!) your monthly yield, which is one of the things I love about the service. You could choose to start withdrawing your returns monthly or you could continue compounding. Or you could do both.
Note that whilst withdrawals can be taken out monthly, every deposit (including compounds which are classified as 'deposits') are tied in for 6 months. There is an emergency funds release, but it comes with a fee. More on that in the FAQs.
Another thing I love about Yeild nodes is they have an 'emergency contact' feature – add someone's email address and if you don't login for X months, that person gets notified 🙂
How to get started with YieldNodes
Yieldnodes is one of the easiest platforms to get started with, even if you are new to crypto.
1. Register an account
Very easy – visit the registration page and enter your details.
If you wish, you can complete the KYC now, however you only need this to withdraw or auto-compound (you do not need to do it immediately).
2. Deposit (easy!)
Over the past couple of years, Yieldnodes have made it even easier to deposit and withdraw. You can deposit by sending BTC or USDT to an address, or you can use a debit card / bank transfer via one of their third party partners.
Note that the minimum deposit is 500 EURO equivalent and deposits are locked up for 6 months. You can withdraw during this time for a fee – more info in the FAQs.
2. Earn (& withdraw, compound or both!)
That's it! Your Yieldnodes account is setup. Now you have to wait 7 days before your deposited funds are master-noded (ie tokens purchased, server configured etc), then you start earning.
If you wish to set auto-compounding, you can doso via the 'Automatic Compounding' slider on the Withdrawals page (more on that in the FAQs).
To withdraw, simply submit your request before the 15th and you will receive it 7-11th of following month (until October 2022 it was always received on 8th — due to growth they made this change to enable them to spread the withdrawals).  You can withdraw in BTC, SAPP or USDT – your EURO earnings will be exchanged at time withdrawal is sent).
More info on withdrawal process in the FAQs.
Yield Nodes FAQs
What is the return on Yield Nodes?
The monthly return varies depending on their success and profitability, however over the past 18 months it has averaged 11% per month. Note that return is NOT guaranteed and Yieldnodes operates in a risky market; cryptocurrency.
In the 5 full months that I have been in this opportunity, the average yield has been slightly above 11% per month.
These are not my legs and nor is the rest of the body mine! However the screenshots are from my account on 19th May 2021. Look closely and you just might be able to see some actual figures!
What is the minimum deposit in YieldNodes?
Yieldnodes peg their system to the Euro and the equivalent of 500 Euro is the minimum you can deposit. This equates to approximately $600 USD or £400 GBP.
Will my profit change based on Bitcoin price?
Erm, yes and no — but probably 'no' in the way that you're thinking!
Most of the cryptocurrency space is effected by the price of Bitcoin, so 'yes', the profit Yieldnodes generate will be somewhat influenced by Bitcoin and the cryptocurrency markets in general….if it's a bad few months for cryptocurrency, you will likely see this reflected in the amount of profit Yieldnodes make during those months.
However, 'no' in terms of your deposits and withdrawals; everything is 'pegged' to the Euro. Bitcoin is only uses as the means of deposit and withdrawal.
If you decide to deposit 1,000 Euro, Yieldnodes will tell you how much Bitcoin to send. ie 1,000 Euro worth of Bitcoin at current exchange rate.
If you want to withdraw 1,000 Euro, Yieldnodes will send you 1,000 Euro-worth of Bitcoin at current exchange rate. In theory, if you exchange that to Euro quickly, you would have 1,000 Euro 🙂
Is Yieldnodes safe?
Like any opportunity, there is risk involved. And similar to most opportunities on this site, Yieldnodes is 'high risk'. There are many risk factors, some of which exist in all opportunities, mainly people, technology and markets.
Crypto and technology risks include hacking of the servers themselves, wallets or exchanges used to trade coins; people risks can be malicious or simply human error, and market risks are everywhere, although Yieldnodes have historically demonstrated they can perform pretty well in bear markets. 
I feel at this stage, regulatory risks are fairly low — Yieldnodes have been operating since 2019 and there are no warnings about their operations. They appear to be on the ball regarding regulations and as laws come about, my thoughts are that Yieldnodes will be prepared and adapt as well, if not better in that regard, than many others.
Anywhere you place your funds that is outside of your control carries some risk. Even funds in your own wallet can be at risk if you are not careful. You need to personally do some due diligence, assess the risk-reward and make the decision to deposit yourself.
Essentially you are trusting Yieldnodes with your funds and to generate and return you a profit share. I've been with them for more than a year now and personally very happy.
Is YieldNodes affected by the crypto 'bull run'?
A 'bull run' is when something takes off and sees fairly constant price increases. So are Yieldnodes returns reliant on the bull run?
Yes & No. Yieldnodes project "5-15% pure profit" per month (and even offers a guarantee if it drops below 5% for 3 consecutive months).
There is certainly potential to see greater than average returns during a bull run and below average returns on a bear run, however, Yieldnodes has been operating long before the 2021 'bull run', during times when things were pretty flat and even through some of crypto's darkest hours, when Bitcoin hit one of it's all time lows, falling below $5,000 USD in March 2020. During this time, their average return has been 11% monthly.
Based on what we have seen, 'good returns' are certainly not reliant on 'bull runs'. That's not to say that these levels of 11% monthly we've seen since 2019 can continue forever, but even a fraction of that is better than most other returns.
How trustworthy is Yieldnodes?
Personally, I feel the founders are very transparent and genuine. They have independent onsite "audits" of their business activity to confirm funds are being used as stated; i.e. funds are invested in servers, masternodes and whatnot.
They also make regular video appearances, especially CEO Stefan Hoermann, they send monthly updates to members and keep us informed of developments within Yieldnodes and their DECENEMY projects. And they donate to charity.
This is unregulated territory. In general, anything cryptocurrency and blockchain is still highly unregulated – we are in a very early stage market. However, in terms of trustworthyness — yeah; I trust them!
Who is the team behind Yieldnodes?
Yieldnodes was launched by CEO Stefan and CTO Yurs in October 2019, both of whom had been involved in the industry for several years. Their team has grown quickly and apparently now consists of 50+ people, including those who work on DECENOMY projects.
You can view Linkedin profiles of the executive team – scroll approx halfway down the homepage.
Is there an audit?
Yes. When you login to your account, look on the left hand menu bar, near the bottom and you will see "Audits". Note that these are from people who have Yieldnodes accounts and a public presence, not proper auditors eg they are a blogger, youtuber etc.
If you don't yet have an account, you can click here to register (you do not have to deposit to see the audits).
In future, I'd like to see completely independent auditors – ie from persons not affiliated with Yield nodes and ideally professionals. Although one day, I'd love to be one of the auditors and meet the team!
How do I deposit money into YieldNodes?
You can deposit to Yieldnodes by sending Bitcoin (BTC) or use one of the third party services to deposit fiat money (ie USD, GBP, EUR). You can also now deposit with Sapphire (SAPP), a DECENOMY coin.
There is no deposit fee charged by Yieldnodes. Depositing via Bitcoin costs only the network fees and similarly, the fiat services have various fees (all of which are clearly displayed) to handle the transaction.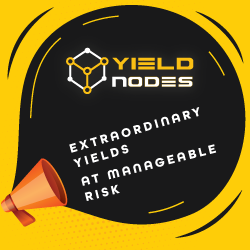 You can deposit Bitcoin or use third party services that are integrated with Yield Nodes to pay with 'fiat money' ie. USD, GBP, EUR. So far, I have used 3 of the methods; (1) First time, I transferred Bitcoin (2) My first bank account deposit was via Coinify (3) My most recent deposit was via Walleteze — this was newly added and the fees are lower than Coinify.
Once your deposit is received, it takes 7 days to get your funds 'masternoded' and start earning. This can feel like an eternity when you're excited, however the good news is that any deposits via compounding your Yieldnodes returns are immediate (I'm now just partially compounding & partially withdrawing).
How do I withdraw money from YieldNodes?
Submit your withdrawal request by 15th month and your withdraw will be completed by 7-11th of following month in crypto (current options are BTC, SAPP or USDT), which you can then exchange for USD, GBP, EUR etc. 
I strongly recommend you withdraw your Yieldnodes profits to a wallet you own in your own personal control where you hold the keys – NOT an exchange….I further recommend it be a cold / hardware wallet such as a Trezor or Ledger (I'm a Ledger-gal myself!).
Note that with Yieldnodes, deposits are locked in for 6 months. The same is true for any further deposits, including deposit via compounding. There is an emergency withdrawal option within 48 hours, however this is only designed for emergency release funds and comes with a 25% penalty.
Your returns can be withdrawn on a monthly basis or automatically compounded or both. 
There is no fee for standard withdrawals (BTC or SAPP).
How quickly can I withdraw from Yieldnodes?
Withdrawal is a simple process, however it is only available once per month and there is a delay as essentially Yieldnodes need to 'unlock' your funds which are tied up in the servers and coins required for masternoding – these servers need to be closed down and the associated coins sold to release your funds so you can withdraw. 
Request withdrawal by 15th of month and receive your withdrawal by 7-11th of the following month. Note that deposits are locked for 6 months, however yields can be withdrawn monthly as per above.
Can I withdraw my initial / deposits?
Yes, however it is locked for 6 months….which works out more like 7 months due to withdrawal process.
However, with many other high-yield passive income opportunities you cannot withdraw deposits (you only receive rewards), so this is a big plus for Yieldnodes. Note that every compound is also a 'deposit' and so is subject to the 6-month lockup. There is a 48hour emergency withdraw feature however you'll pay a 25% penalty.
Within your account, click on Withdrawal and scroll down. If you have been a user for more than six months you should see a 'Transfer Noded Balance' that you can transfer to withdraw.
What are the Yield Nodes tax implications?
The short answer is that you should speak to a specialist crypto accountant / tax professional. The reason is that some areas of crypto are still slightly grey. You will want someone who fully understands your situation to make the call and have the relevant knowledge to back up any tax enquiry.
I'd say it's fairly likely to be classed as earnings/income, especially now Yieldnodes have proven themselves over multiple years.
For crypto tax tracking I've used Cointracking since 2018. It's not as pretty looking as some of the newer tools, however it is fast and works really well. If you use this link, you'll get 10% off.
How does Yieldnodes make money?
Yieldnodes take a maximum of 15% 12.5% (updated Sept 2022) of the profits they generate through their service and the remaining 85% goes to the participants. 
They generate profits primarily through masternoding activates and their entire ecosystem which is ever-growing, including exchange activities and projects they operate themselves and incubate such as SAPP (Sapphire) and third party coins.
Note that all the yield / return figures are quoted AFTER they take their 15%. Ie. the percentage returns you see are the percentages that have been returned to participants (eg the average 11%). Nothing is hidden.
How sustainable is the Yieldnodes APY?
Firstly, there is no 'APY'; Yieldnodes is 'profit share', however when you calculate what the APR or APY has been historically, it's pretty impressive; 120% or 213% APY (ie. compounded).
How sustainable are these returns? That's difficult to say. As more and more people join, is there enough liquidity, masternode and staking rewards to maintain an APY of around 10% per month? I doubt it. However, I could be wrong — many of the coins are under development with only a small number of holders/users. With proper usecases and development comes more people which, in turn, could further build the ecosystem, the coin price and the rewards / 'APY'.
Either way, Yieldnodes is innovating and working on other things beyond masternodes, such as their DECENOMY (lots of coins that are currently very low market cap – ie. risky but lots of space for growth) and RWA / real world use cases such as the mobility coin (MOBIC) battery charging stations for electric vehicles, so who knows?!
Does Yieldnodes offer any training?
No. However, it's not needed; the Yieldnodes platform is extremely easy to use and the user experience (UX) is very good. The site offers answers to FAQs and provides what I would say is a 'perfect' user experience – from a user perspective, it's very simple yet very powerful.
They also send a monthly update newsletter which, similar to their UX is clean and simple.
In future, they plan to offer masternode education via DECENOMY.
Does YieldNodes affiliate / referral programme?
Like most softwares, systems and online products, Yieldnodes has a referral program. 
It is a basic 'single level' affiliate program that everyone automatically becomes a member and pays the referrer a bonus of 5% on deposits, that's right — if you register via one of my links (or banner ads), in theory, I should receive 5% commission.
If you are interested in Yieldnodes and gained value from this post, I'd really appreciate it if you use my link to register 🙂 #thankyou
What are the negatives about YieldNodes?
Aside from risk, would you be surprised if I said 'none'? 
In my experience, Yieldnodes do exactly what they say and their user experience and communication is excellent. 
There are a few things that would be nice to have such as a community (however I realise this could be a distraction to the team's core work) and some form of auto-withdrawal to remove the manual aspect of withdrawing profits monthly, however overall I'm extremely happy with Yield nodes and their comms and feel they are doing a stellar job.
Any other awesome things about Yield Nodes?
Yes; they say, "A projected 5-15% pure profit –  paid out every month, and with an interesting twist on our side: Should the yield drop below 5% for 3 consecutive months, your rental payment will be returned along with any accrued profits (if compounded). No fuss – no quibbling!". It has averaged 11% for 18 months, however, even so – that's an unreal guarantee!
And they have an emergency contact system – pop in your next of kin details and a number of months. If you don't login to Yieldnodes within that time frame, your next of kin will receive an email.
I've already mentioned that Yieldnodes offer an 'emergency withdraw' within 48 hours subject to 25% fee.
If you're new to this sort of thing, that ;emergency withdraw' 25% fee might not sound like something awesome – but it is! I've not seen any other program have an option like this; usually once your funds are in, they are in – there's no 'quick release'. Kudos to YieldNodes for making this available. The 25% fee is due to the projected loss made by closing down nodes etc quickly and without proper procedure.
Their dashboard is really clear and simple to see your return. Everything is open, transparent and they speak in 'plain English' (no waffle!).
Their founders seem very decent — they announced they would personally match funds donated to humanitarian aid for those displaced in Ukraine and built a feature into the Yield Nodes app to make it easy for members to donate from their profits (see February 2022 update below).


The banner uses my referral link.  You do not have to use it, however if you found this post useful I appreciate it! 🙏
Yieldnodes Updates (monthly)
There has been some interesting developments with Yieldnodes so I thought I'd start posting mini monthly updates below, rather than just the  profits…
October 27th, 2022 (lots of updates)
The team have setup a Discord and are being pro-active in responding to questions. They are releasing information on their plans for recovery and for the future of Yieldnodes Pro. There is currently too much information, noise and frequent updates to keep this post up-to-date; best to join Discord: https://discord.gg/uNc2VpCwA9 (I will update this post when things have calmed down and there is more clarity).
October 12th, 2022 (video update)
An interview update  with CEO, Steve (Stefan) re current situation and plans for Yieldnodes Pro: https://www.youtube.com/watch?v=ysEBK8ZpsGY
I feel the video is genuine and I have hope. However, still lots of QUESTIONS: I would like to see more detail on what actually happened and the "suddenness" of it all — only days/weeks prior, there were birthday celebrations (minimum deposits reduced to $100 and SAPP bonuses), a mobile app and feature additions. And, why were funds scheduled for release sitting on an exchange (Binance) on the day of release? Why were some September withdrawals processed and others not? If the funds were/are there for those withdrawals, why can they not be released? Who is this mystery investor/donor and what exactly are the assets? How much liquid assets exist…
There are still many unanswered questions, and as interviewer Liam put it, the past few days have been an absolute shitshow, but I'm glad they got a video interview out sooner, rather than later, even if it lacking in some of the information that I feel many people are interested in knowing. Hopefully these will be covered in the next interviews/AMAs…
An email was also sent assuring us that Yieldnodes is going nowhere – they are here to stay. More information will follow in coming weeks.
I'll wait until further information before updating this article.
October 11th/12th, 2022 (not all withdrawals have been sent)
As per email on 8th, we were told there were delays on some withdrawals being sent that would run until 11th. Whilst I believe some people did receive funds after the 8th, many did not. We did not 🙁
I believe the withdrawals that have not been sent are the larger withdrawals — we set our biggest ever withdrawals on 14th September because we had to buy a new van and then needed to do a conversion ($$$$!). Neither of these 2 larger-than-normal withdrawals have been received as yet, whilst the smaller ones were received. You can keep up with our journey / monthly activities here.
October 11th, 2022 (unclear update via email)
Today we received an email from Yieldnodes which is too big and vague to summarise here. It came from Urs (not Steve/Stefan), who does not normally do the comms. Further clarification is needed; it is unclear exactly what is going on.
I posted this tweet with some questions regarding what current situation is and what happened on 8th.
Awaiting an update and clarification.  
October 8th, 2022 (mini-update re withdrawals)
As of 8th October, withdrawals will now be sent 7-11th of the following month (previously it was always on the 8th for Bitcoin). This was triggered due to Binance flagging one of their accounts for transaction volumes during the September withdrawals on 8th October. 
Many withdrawals have already been sent, but some have not. We received our 'normal' withdrawals, however we also requested much larger 'transfer from noded balance'  withdrawals (for the van / van conversion) and they have not yet been received.
September 2022 (Yieldnodes profit: 5.3%)
Yieldnodes have grown a lot in the past couple of years and on 20th September they announced that they would be cutting their profit share from 15% to 12.5%. That means we now receive 87.5% profits instead of 85%. I assume this will kick in for October. The Yieldnodes mobile app has been released for Android, Apple will be released soon.
Yieldnodes birthday is in October — it is 3 years old this coming month! 🥳 To celebrate, they are reducing the minimum deposit from 500 EUR to just 100 EUR for the month of October. Yes, for one month only you can join for just $100 (currently 1 EUR = 1 USD!).
August 2022 (Yieldnodes profit: 6.1%)
They continue to work hard on Decenomy and this month we seen photographs of Mobility Coin (MOBIC) battery charging station prototypes in a town near Stuttgart, Germany – mobile loading containers for electric cars (the idea is that you can also 'offload' battery power from your car battery and earn tokens in return!). Their next step is decentralized loading – giving everyone the opportunity to share electricity and earn money by doing so.
Yieldnodes are also giving a 10% deposit bonus in September for any deposits made using Sapphire (SAPP), one of the Decenomy coins, with instant masternoding (no 7-day wait). This is to help encourage use of their tokens and the Birake exchange, which is the main place to purchase (I have used Birake many times myself — it's not as slick as other exchanges but it works fine; deposits, withdrawals, exchanges all work as expected).
July 2022 (Yieldnodes profit: 9.2%)
What a great month for Yieldnodes? We have not seen a +9% return since October so this was a very pleasant surprise.
They have also uploaded the 'audit' results form July which you can see when you login to the dashboard on the left hand side.
June 2022 (Yieldnodes profit: 6.1%)
Another shit month for crypto – mostly in the red….however another month of profit from Yieldnodes! Yep, it's the lowest yet, but still loads more than everything else this month.
Enjoy! Haven't tried Yieldnodes yet? Check it out here 🚀 (even just register for the monthly performance newsletter – I'm sure you'll be impressed!).
May 2022 (Yieldnodes profit: 6.5%)
Just when you thought crypto couldn't get any worse than April, along comes May, with the Terra Luna collapse adding fuel to the fire.
Every token/coin in my portfolio is negative, yet Yieldnodes returned 6.5% 🙂 Yes, it is the lowest return so far, but look at how bad the markets have been; relative to that, it's pretty incredible!
Also an announcement that the country they are working with is the government of Democratic Republic of São Tomé and Príncipe, a small Portuguese-speaking African island, in terms of DECENOMY to facilitate economic infrastructure. I expect we'll hear more in coming months.
April 2022 (Yieldnodes profit: 8.3%)
Another really crap month for crypto, however another month of fairy stable returns from Yieldnodes! USDT withdrawals now available (TRC20 network), more work outlined for DECENOMY (inc education – see knowledgebase within Yieldnodes account), another community audit planned for July in the Malta offices, several Quality of Live (QoL)  upgrades – ie UI and UX improvements…and a government partnership in the pipeline! 🤯
March 2022 (Yieldnodes profit: 7.4%)
Lots of news too! Yieldnodes have taken over Flits app. You may remember me mentioning them around 6 months ago; I used Flits as an easy way to set up my Beacon masternodes.
USDT is still being tested and there is a debit card partner in the pipeline. You can also donate to Ukraine humanitarian funds via the DECENOMY-created https://help4ua.net/en (however, if you do it via your Yieldnodes account, Steve and Urls will match it 100%!!).
February 2022 (Yieldnodes profit: 8.3%)
The sadness of what Putin is doing to Ukraine has hit everyone hard. In this month's newsletter, Yieldnodes noted that whilst they are non-political, they take a hard stance as being humanitarian.
The team worked to implement a "donation from withdrawable funds" feature and Urs and Steve commit to matching donations 100% from their own funds. (Not YieldNodes funds! From their own private funds)…and the transfer(s) will be shown in a transparent way 🙏 #kudos
Not only that, Urs (architect for Yieldnodes and COO), is running 2 buses for the aid of disabled refugees.
This was taken from their newsletter;
When people need to cower underground in fear, and children are collateral damage, you need to act and provide help…

We consider ourselves to be a force of good, and want to be able to face ourselves in the mirror. Urs has also purchased 2 buses that help to carry over disabled refugees from Ukraine into Europe.
If you've auto-compounded and have nothing to withdraw (donate!), and you have had an account for more than six months, you might have available funds to transfer – click here for information.
More than ever, I feel very, very happy to be a part of Yield Nodes and their DECENOMY.
Which brings me on to…
First impressions of the very first DECENOMY hub in Malta have been revealed. It will be a place for education, funding and and incubation around masternode projects.
What a month?! You can register here and receive monthly copies of their reports/newsletters direct to your inbox – you don't need to deposit to receive these 😉
January 2022 (Yieldnodes profit: 8%)
USDT withdrawal option being added, however there is a 1% fee. The reason being that BTC is the primary exchange pair for all masternode coins and so the additional risk of fluctuation in price etc needs to be factored in. BTC and SAPP withdrawals are still free 🙂 Lots more DECENOMY updates too.
December 2021 (Yieldnodes profit: 7.5%)
Improved FAQ section an a surprise gift of 25 EURO for every member – Happy Christmas! Decenomy and Yield Nodes merch store launched: https://decenomy.myshopify.com, 100% of which go into the masternoding pool.
November 2021 (Yieldnodes profit: 7.2%)
Sapphire (SAPP) added as a withdrawal method – exchange SAPP for vouchers and goods (eg Amazon, Netflix etc) at sapphireshopping.com and, if chosen, will release on 4th of month (Bitcoin is 8th).
October 2021 (Yieldnodes profit: 10.1%)
Back into double-digits; yey!  A new 'audit' was carried out in-person in Malta during the last week in October by three customers of Yieldnodes. The results/reviews are expected within the first two weeks of November. Their report/newsletter also reminds us;
"Despite all the enthusiasm, please stay mindful and diversified in your investments…..

We are constantly aware of the huge responsibility we carry, and it's not always easy – sometimes even burdening, but it's also extremely rewarding to know that you're doing a good thing, and working with good people 🙂

However, it's important that you never put all your eggs in one basket!"
— this is something I really like about Yieldnodes; they never try to 'sell' and they are always ensuring their list and members are informed.
I love the style of these short monthly 'reports'. If you're interested in Yieldnodes, but not quite ready to jump in, you can register here and receive monthly copies of their reports/newsletters – you don't need to deposit 😉
September 2021 (Yieldnodes profit: 7.7%)
Partnerships and opportunities for institutional investors. An invite for anyone to apply to be 1 of 3 people to visit the Yieldnodes offices in Malta at the end of October to verify and 'audit' their business; confirm the node and wallet balances, and compare deposited / compounded funds against company holdings.
August 2021 (Yieldnodes profit: 10.6%)
PDF statements are now available to generate and download. And a reminder to everyone to setup Google Authenticator on their accounts.
July 2021 (Yield nodes profit: 9.6%)
The following tokens/coins Decenomy network; ONE WORLD (OWO), SUVERENO (SUV), CRYPTOSAGA (SAGA), MONK (MONK), ESKA (ESK), BEACON (BECN). There have been a number of discussions with other potential coins and standardisation / refactoring of code.
June 2021 (Yieldnodes profit: 9.1%)
 "DECENOMY is to provide coins for various sectors and fields of activity in which entrepreneurs and consumers can then realise their own business cases. In addition, individual coins also have direct regulatory functions within the DECENOMY network. DECENOMY ensures transaction security, price stability and the convertibility of the coins amongst each other."
May 2021 (Yieldnodes profit: 7.9%)
In addition to BTC, payouts are now also available in SAPP (Sapphire), one of the DECENOMY tokens which can be used at https://sappshopping.com  for everyday purchases from Amazon, Netflix, Apple, Android, and many others. DECENOMY PLC has been incorporated in Malta and sounds like there's a lot of exciting stuff to come.
April 2021(Yieldnodes profit: 12.7%)
A few new funding options added and 3 other projects will be joining the DECENOMY umbrella. DECONOMY in the process of being incorporated of which Yield Nodes will be a part.
March 2021 (Yield nodes profit: 10.6%)
February 2021 (Yieldnodes profit: 19.2%)
January 2021 (Yieldnodes profit: 12%)
December 2020 (Yieldnodes profit: 11.1%)


The banner uses my referral link. You do not have to use it, however if you found this post helpful I appreciate it 🙏
UPDATE: I now have a new post sharing my top 3 passive income opportunities, 
ENJOY!