As an opportunity for passive income, YieldNodes is one of my top 3 opportunities. As far as 'passive' goes, it's about as close to 100% as you can get. If you think Yield Nodes is a scam, I encourage you to take a closer look.
I've been invested since December 2020 and six months later, I'm extremely happy with the results and communication from the team.
What is YieldNodes?
Yieldnodes is a server rental program that generates and shares profits based on using the servers primarily for 'masternoding' – complicated cryptocurrency stuff that fortunately you don't need to know anything about to participate. 
The team has been very transparent since they commenced operation in September 2019 and they share results publicly, every month.
Yieldnodes results for $5,000 over 5 months (Jan-May 2021):
Why have I chosen $5,000 and Jan-May 2021 timeframe? Because this $5,000 is 50% of what I saved converting the van, and at the time of writing, Jan-May 2021 are the full months I've been a part of Yield Nodes and earning a return (there is a post on HyperFund for the other 50%). Read more on the van conversion and savings here.
Based on their 18-month average return of 11% per month, over 4 months a $5,000 'node rental' should have grown to be worth $8,425 in  months and in month 5 you would be earning around $835 per month if the 11% average continued.
During my 5 full months, the average return has been pretty close to 11% per month…just slightly over, giving a balance of $8,976.
Below are the actual figures based on $5,000 being masternoded and profits compounded from 1st January until 30th May. 
YieldNodes monthly return
| | | | | |
| --- | --- | --- | --- | --- |
| Month (2021) | Starting Balance | % Return | $ Return | Closing Balance |
| January | $5,000 | 12.0% | $600 | $5,600 |
| February | $5,600 | 19.2% | $1,075 | $6,675 |
| March | $6,675 | 11.2% | $708 | $7,382 |
| April | $7,382 | 12.7% | $937 | $8,319 |
| May | $8,319 | 7.9% | $657 | $8,976 |
As you can see, there was a massive return in February of 19.2% which had a significant impact on the average return but was an anomaly due to a massive 'bull run' in which crypto experienced hyper growth, you'll then see a return of 7.9% in May, during which crypto then crashed, with Bitcoin loosing around 40% of its all time high (ATH) value…yes; we still received a return of 7.9% during May!

What can you do with YieldNodes returns?
Yield Nodes allow you to withdraw or automatically compound (all or part of!) your monthly yield, which is one of the things I love about the service. You could choose to start withdrawing your returns monthly or you could continue compounding. Or you could do both.
Note that whilst withdrawals can be taken out monthly, every deposit (including deposits via compounding) are tied in for 6 months. There is an emergency funds release, but it comes with a fairly hefty fee. More on that in the FAQs.
Another thing I love about Yieldnodes is they have an 'emergency contact' feature – add someone's email address and if you don't login for X months, that person gets notified 🙂
Yieldnodes FAQs
What is the return on Yield Nodes?
The monthly return varies depending on their success and profitability, however over the past 18 months it has averaged 11% per month.
In the 5 full months that I have been in this opportunity, the average yield has been slightly above 11% per month.
These are not my legs and nor is the rest of the body mine! However the screenshots are from my account on 19th May 2021. Look closely and you just might be able to see some actual figures!
What is the minimum deposit in YieldNodes?
Yieldnodes peg their system to the Euro and the equivalent of 500 Euro is the minimum you can deposit. This equates to approximately $600 USD or £400 GBP.
Is Yieldnodes safe?
Like any opportunity, there is risk involved. Anywhere you place your funds that is outside of your control carries some risk. Even funds in your own wallet can be at risk if you are not careful. You need to personally do some due diligence, assess the risk-reward and make the decision to deposit yourself.
Is YieldNodes affected by the crypto 'bull run'?
A 'bull run' is when something takes off and sees fairly constant price increases. So are Yieldnodes returns reliant on the bull run?
Yes & No. Yieldnodes project "5-15% pure profit" per month (and even offers a guarantee if it drops below 5% for 3 consecutive months).
There is certainly potential to see greater than average returns during a bull run and below average returns on a bear run, however Yieldnodes has been operating long before the 'bull run', during times when things were pretty flat and even through some of crypto's darkest hours, when Bitcoin hit one of it's all time lows, falling below $5,000 USD in March 2020. During this time, their average return has been 11% monthly.
Based on what we have seen, 'good returns' are certainly not reliant on 'bull runs'. That's not to say that these levels of 11% monthly return we've seen since 2019 can continue forever, but even a fraction of that is better than most other returns.
How trustworthy is Yieldnodes?
Personally, I feel the founders are very transparent and genuine. Furthermore, they have invited 4 independent experts to audit their business activity and confirm funds are being used as stated; i.e. funds are invested in servers, masternodes and whatnot. They also make regular video appearances, send monthly updates to members and keep us informed. 
This is unregulated territory. In general, anything cryptocurrency and blockchain is still highly unregulated – we are in a very early stage market.
Finally, YieldNodes have excellent reviews on TrustPilot.
How do you deposit to YieldNodes
There is no deposit fee charged by Yieldnodes. Depositing via Bitcoin costs only the network fees and similarly, the fiat services have various fees (all of which are clearly displayed) to handle the transaction.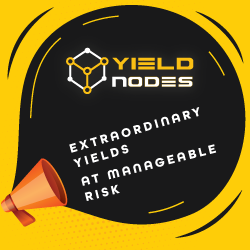 You can deposit Bitcoin or use third party services that are integrated with Yield Nodes to pay with 'fiat money' ie. USD, GBP, EUR. So far, I have used 3 of the methods; (1) First time, I transferred Bitcoin (2) My first bank account deposit was via Coinify (3) My most recent deposit was via Walleteze — this was newly added and the fees are lower than Coinify.
Once your deposit is received, it takes 7 days to get your funds 'masternoded' and start earning. This can feel like an eternity when you're excited, however the good news is that any deposits via compounding your returns are immediate (I'm now just partially compounding & partially withdrawing).
How do you withdraw from YieldNodes
With Yieldnodes, deposits are locked in for 6 months. The same is true for any further deposits, including deposit via compounding. There is an emergency withdrawal option within 48hours, however this is only designed for emergency release funds and comes with a 25% penalty.
Your returns can be withdrawn on a monthly basis or automatically compounded or both. 
There is no fee for standard withdrawals. If you require a bank transfer, the fee is 2.5%.
How quickly can I withdraw from Yieldnodes?
Withdrawal is a simple process, however it is only available once per month and there is a delay as essentially Yieldnodes need to 'unlock' your funds which are tied up in the servers and coins required for masternoding – these servers need to be closed down and the associated coins sold to release your funds so you can withdraw. 
Request withdrawal by 15th of month and receive your withdrawal by 8th of the following month. Note that deposits are locked for 6 months, however yields can be withdrawn monthly as per above.
What are the Yieldnodes tax implications?
The short answer is that I'm not sure yet 🙁 Also, during this tax year I was 100% auto-compounding so my thoughts are that there will be no Yieldnodes tax to pay this year (I'm in the UK and pay UK tax to HMRC, so it's April).
I will be speaking to a crypto accountant soon though as I've taken significant withdrawals from Hyperfund during that time, for which I'm hopeful will be able to go in as capital gains tax 🤞.
For crypto tax tracking I've used Cointracking since 2018. It's not as pretty as some of the new tools, however it works really well. If you use this link, you'll get 10% off (there's also a healthy free allowance). The only transactions in the previous tax year for Yieldnodes are deposits (I have no withdrawals to input to Cointracking).
I'm hoping that compounding within the Yieldnodes system is closed and has no tax implications until withdrawn….I will have to wait and see what the accountant says.
How does Yieldnodes make money?
Yieldnodes take a maximum of 15% of the proceeds they generate through their service and the remaining 85% goes to the participants. 
Note that all the yield / return figures are quoted AFTER their 15%. Ie. the percentage returns you see are the percentages that have been returned to participants (eg the average 11%). Nothing is hidden.
Does Yieldnodes offer any training?
No. However, it's not needed; the Yieldnodes platform is extremely easy to use and the user experience (UX) is very good. The site offers answers to FAQs and provides what I would say is a 'perfect' user experience – from a user perspective, it's very simple yet very powerful.
They also send a monthly update newsletter which, similar to their UX is clean and simple
Does YieldNodes affiliate / referral programme?
Like most softwares, systems and online products, Yieldnodes has a referral program. 
It is a basic 'single level' affiliate program that everyone automatically becomes a member and pays the referrer a bonus of 5% on deposits, that's right — if you register via one of my links (or banner ads), in theory, I should receive 5% commission.
If you are interested in Yieldnodes, I'd really appreciate it if you use my link to register 🙂 
My Link: https://yieldnodes.com?a=OkWqAQ547Mjnmb1
What are the negatives about the YieldNodes system?
Aside from risk, would you be surprised if I said 'none'? 
In my experience, Yieldnodes do exactly what they say and their user experience and communication is excellent. 
There are a few things that would be nice to have such as a community (however I realise this could be a distraction to the team's core work) and some form of auto-withdrawal to remove the manual aspect of withdrawing funds monthly, however overall I'm extremely happy with Yieldnodes and feel they are doing a stellar job.
Any other awesome things about Yieldnodes?
Yes; they say, "Should the yield drop below 5% for 3 consecutive months, your rental payment will be returned along with any accrued profits (if compounded). No fuss – no quibbling!". It has averaged 11% for 18 months, however, even so – that's unreal!
And they have an emergency contact system – pop in your next of kin details and a number of months. If you don't login to Yieldnodes within that time frame, your next of kin will receive an email.
I've already mentioned that you can 'emergency withdraw' within 48hours subject to 25% fee.
If you're new to this sort of thing, that might not sound like something awesome – but it is! I've not seen any other program have an option like this; usually once your funds are in, they are in – there's no 'quick release'. Kudos to YieldNodes for making this available. The 25% fee is due to the projected loss made by closing down nodes etc quickly and without proper procedure.
Their dashboard is really clear and simple to see your return. Everything is open, transparent and they speak in 'plain English' (no waffle!).

Disclaimer: As with everything on this site, this article is for informational purposes only and is not investment advice. I simply share my experiences and my opinions for information. I am not a financial adviser and I am not providing investment advice. These are high risk, new and unregulated markets. Please do your own research and due diligence.
Also, if I told you exactly what I'd done during that January-April 2021 period it would be confusing, so please note that the information above is simplified/illustrative to make the math easier and the two programs (YieldNodes and HyperFund) slightly easier to compare; I didn't just throw all my money in in one go, nor did I split the money equally with each program (I went 80% Hyperfund and 20% Yieldnodes – read why here!).
JULY UPDATE: I now have a new post sharing my top 3 passive income opportunities, including a comparison table. Check it out!